Index
Do you provide a certificate of authenticity for the pieces?
Where are you physically located?
Are the descriptions and photos reliable?
How long will it take to receive my purchase?
Can items be returned once they are in my hands?
How do you know our items are real and that we won't scam you?
Perhaps if you could TALK to one of our clients, you would feel more confident towards us?
---
We sell antiques and collectibles. Items that can be found at www.Antiguedades.es are. antiques and collectibles with a minimum age of 50 years, unique in their state of preservation. Through our pages, you will find multitude of objects curious, collectible and decorative, being exclusive not few of them, almost all of them, tremendously interesting, some extraordinarily rare and many of them, authentic works of art. Pieces to make you feel and dream when contemplating and admiring them.
Mainly, we started specializing in antique machines such as gramophones, music boxes, wall clocks, table clocks ... but today, we also work with other antique items of the first order, classic antiques and first class collectibles such as cameras, militaria, antique scientific instruments ... To be exact, nowadays, we work with any first class antique we can find at the right price and that we can transport all over the world.
WE WORK WITH SELECTED PIECES
All our items are first class collector's items, in excellent condition, state of conservation or / and perfect working condition. If we talk about antique machines, most of them are in perfect working condition, a perfect state of preservation or perfectly restored. The few that are not, because it has not been possible to repair them, are clearly indicated. We like to work with the best pieces we can find. Personally, I prefer to work only with selected pieces.
'Selected pieces' does not mean 'unaffordable pieces' or 'unaffordable prices'. Our pieces are priced very correctly, depending on the rarity and state of preservation of the piece itself. Each piece has a range of preservation, from Scrap and Rusty Irons to Museum Condition, which I consider to be the highest. 'Selected' means that I prefer to work with pieces in Museum Condition, or near, and First Class collectibles, or near, rather than other types of lower quality pieces.
Do you provide a certificate of authenticity for the pieces?
Everything advertised is for us a written contract. Even so, if the customer wishes, being a purchase intended as a gift, for example, we give a written Certificate of Authenticity of the piece if requested, and send it with the same piece or by mail.
Where are you physically located?
We are located in Zaragoza, Spain. You can learn more about us by visiting the About Us section.
The store address is:
C/ Juan Cabrero, 18 Local AA
50007 Zaragoza
Spain
WE ARE HERE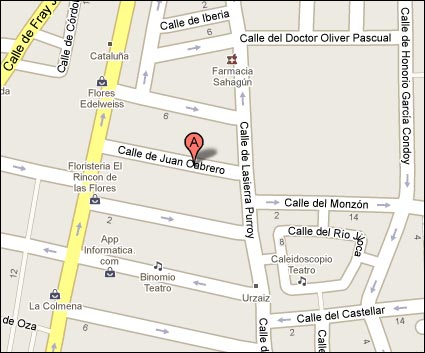 Click here to enlarge
As it is more comfortable for you. You can call us, write us or visit us. You will find all our contact details in the Contact section.
Are the descriptions and photos reliable?
WE GUARANTEE THE DESCRIPTION AND DATING OF ALL OUR PIECES.
We always guarantee the descriptions and dating of our pieces not only in antiques in general, but even in the working condition of an antique machine. We describe the pieces including the state of preservation of the part, and any defect or missing part is noted in the ad. The photos are not retouched, except for brightness and contrast. Any small scratches, bumps or flaws, usual due to the age of the piece, are reflected in the photos.
Of course, to be completely honest, when we talk about old machines, it is practically impossible to give a full guarantee on the working condition of an old machine with 100 years or more on its back. A lot can happen inside an antique mechanism and the spring that is in perfect working order today, could be the failure of the future, as far in the future as ten years from now... or as close as next month. It's impossible to know exactly when an old machine might break down, or even if it will. But before our pieces are ready to be sold, we check the mechanisms and working condition of all of them. If necessary, we restore and/or repair them, and finally we clean and/or adjust all our old machines, and if there is a defect or malfunction, it is clearly indicated in the description, video or pictures.
We try to have all our pieces in perfect working condition, but if a disaster occurs and the item is put out of service or damaged, for whatever reason, we can help you solve the problem and help you repair or restore it. We work with and have contact with top-notch professionals who can restore anything from antique paintings, antique silver, other metals such as iron, copper and bronze, and any type of wood. Also, we can help repair antique machines such as, gramophones, antique clocks, typewriters and antique mechanical calculators.
According to the nature of these items and although it is indicated in the description that they are in working condition, the buyer must keep in mind that these are pieces intended for exhibition, not for daily use. Notwithstanding the foregoing, the customer has a period of two months to terminate the contract, if the customer observes that the item is significantly different from what is described in its description.
Yes, we ship worldwide, except for exceptions due to current political situations, such as Russia, where Russian customs does not allow the entry of items valued at more than 200 euros. But apart from this exception, we ship worldwide. As a legally registered business, we have a commercial agreement with several shipping companies, with great discounts on the official shipping prices, and we can ship our items safely all over the world with a quite competitive price, cheaper than airmail.
How long will it take to receive my purchase?
Items are shipped within 24 hours of receipt of payment, although sometimes, if it gives time to prepare the package before the carriers pass it can be shipped on the same day. The time of reception depends on your country of residence and the chosen method of payment. PayPal or credit card payments are faster than bank transfers. For mainland Spain shipments take 24-48 hours maximum from departure. For overseas shipments it varies from about 3-5 days to Europe to 5-10 days to some South American countries.
We can ship almost anything safely, no matter how big or heavy, if the customer wants to pay the price, as some heavy and/or large objects or delicate items traveling in large boxes are especially expensive to ship, not maybe within Europe, but sometimes to the United States or Asia and some require special packaging, such as custom made wooden boxes or special foams for protection during transport. The priority in shipping is always Safety and Protection of the piece. We have been shipping internationally since the beginning in 2003. Our over 1000 eBay customers and still 100% positive feedback today, speak of their positive experience.
We have extensive experience in packing and shipping securely all over the World, from China and Singapore, to US cities: Dallas, San Francisco, New York or the London of Canada, and of course almost all European countries, many of the American ones like Mexico, Argentina and Colombia, and not forgetting Australia, South Africa, Israel and some in the Middle East like Qatar and Emirates. We have successfully shipped, from fragile items like bone china or crystal, to heavy items like a slot machine, not together in the same box of course! :-).
Can items be returned once in my hands?
Of course. If for any reason, you are not satisfied with your item, you can return it up to 14 business days after you receive it. The item must be received in the same condition in which it was sent and the packaging in which it was received. Once we have verified that everything arrives back in the same condition as it was sent, a refund will be made to the current account you provide us with.
In case of return due to our error, as in the case that we send the wrong item or in the case that the item does not fit the description of the same, we will bear the cost of return shipping. In case you do not like it or it simply does not match the decoration of your home, the return shipping costs are at your expense, but you will still be refunded the total amount paid for the piece.
To return an item, just call us by phone or write us an email and we will tell you how to proceed. In case you want to do it in writing by mail or fax, you can use the following sample form: Return form . It is not essential that you use this form, but we make it available should you wish to use it.
You hear a lot of things from the Internet and not all of them good... Why should I trust you?
Yes, it's true. You hear a lot of things about the Internet today, some of them bad. So this question is totally normal
How do you know our items are real and that we won't rip you off?
Indeed, everything you hear about Internet scams is true. But the opposite is also true. Unfortunately, the media is only interested in bad news, in lurid facts. The Internet has long since ceased to be the future and is, quite simply, the present. We all agree on that. I think we have all heard or read in the media about the great number of scams on the Internet. This IS TRUTH and we must be very careful. We have been scammed ourselves, so you are right to be cautious.
But INTERNET IS ONLY A TOOL . . Behind a website there are people who live in the REAL WORLD. And there are all kinds of people in the real world. Some are honest and some are not. Some work well and some don't. Some give good service and some do not.
In Antiguedades.es we are real antique dealers located in Zaragoza, Spain. Our website is monitored and controlled by external companies such as. ONLINE TRUST which ensures that we comply with the law. At any time you can contact us by phone, landline or mobile, email or in person. Internet is a MEDIUM through which we reach the whole world. For this we use our website www.Antiguedades.es, where we show you what we have in our store. But behind it all, we are people of flesh and blood.
Watch out! There are dishonest people out there. We all know someone who has had problems when buying online: the money is sent and the item doesn't arrive, or it takes too long, or it arrives broken... We have experienced these problems ourselves, so....
Because.
1º) All our pieces are real and all of them are in our warehouse. If you want to come and see them, our premises are in. Zaragoza, Spain, in Calle Juan Cabrero, 18. You will find a location map in the section Contact Us . Or if you want more details, we can post more detailed photos or videos.
2º) You can ALWAYS contact us. At any time you can come in person to meet us or you can call us by phone at 976 45 39 31 (+34 976 45 39 31) (+34 976 45 39 31, if calling from outside Spain), or write to us at. info@antiguedades.es . Just be aware of the time change or local or national holidays when calling by phone. Our calling hours are from 9:00 am to 2:00 pm and from 3:00 pm to 7:00 pm. Monday to Friday. We do not work on weekends. They are for relaxing with our families.
3º) You will not be the first person to trust us. On the contrary. We already have HUNDREDS AND HUNDREDS of repeat customers over and over again. We are honest and reliable. We sell antiques on the Internet and WE ARE VERY GOOD. You don't have to believe us, but maybe you can believe our customers.
As I told you, we have been selling antiques and collectibles for many years. Here's what our eBay customers think, where we have sold under the pseudonym of " Piezas Unicas " or the current one, " iberantiques " or on Todocolección, also under the pseudonym " iberantiques " (if you want to see our rating as a seller, click on the pseudonym).
Perhaps if you could TALK to one of our customers, you would feel more confident towards us?
Well that's exactly what you can do, if you have a registered account on either site. Ask any of our customers if they are satisfied with the item purchased or the service received and see for yourself the quality of the item.
OUR PRIORITY IS YOUR SATISFACTION, ALWAYS.
Most important of all: we always prioritize you as the customer. A customer's experience with antiques should always be pleasant and happy, or, if this is not entirely possible, at least satisfying and full of joy. Our work is only finished, not when we sell the piece, but when you have the piece in your hands, safely and in good condition.